Dance with flARmingos, a project of Kristin Lucas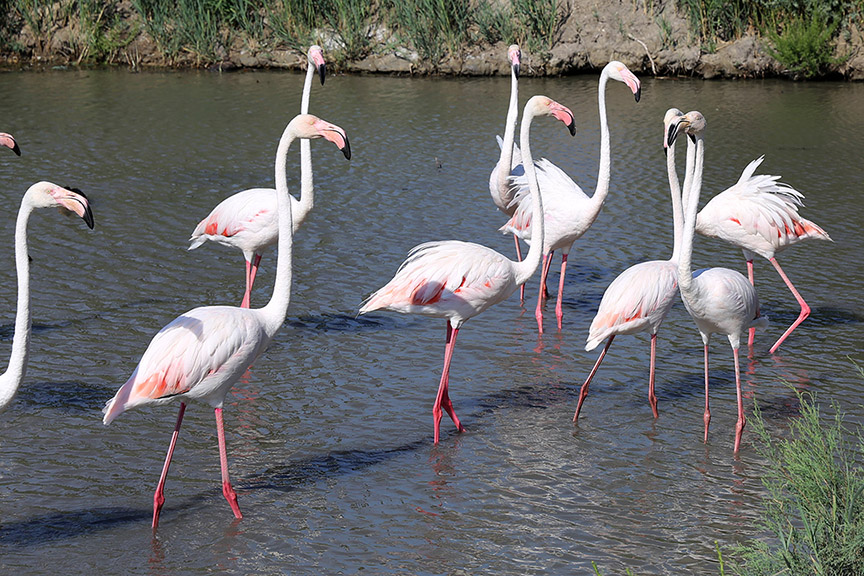 Observing the Greater Flamingo species at Parc Ornithologique de Pont du Gau in Arles, France
"Dance with flARmingos" is a Mixed Reality experience that features a multispecies dance between humans and flamingos, and pays homage to the flamingo - a consummate showman and embattled victim of environmental neglect - by staging kinship from an ethical distance. To Lucas, this is an exercise in going beyond a human-centered worldview into a more fluid ecological discourse, through the use of technological embodiment and sensory play.
Humans love flamingos, and these charismatic birds have persevered remarkably despite their hyperreal status. Representations of flamingos in fashion, tourism and lawn ornamentation far outnumber their physical presence in the wild. Lucas plays a careful dance in this project, staging a relationship between humans and flamingos that is close up and distant, fantastical and factual. The ethereal and intangible qualities of a flamingo hologram are ironically heightened by the fact that wild flamingo populations are disappearing worldwide due to the spread of human activity in wetland areas and climate change.
It is not very plausible or practical to dance with a flamingo IRL. Lucas uses digital technologies as a means to reimagine, simulate and stage new possibilities. She subverts the trend of flamingos adapting to humans, by inviting humans to adapt to flamingos in ways that can be social and fun. Mixed Reality has poetic and humorous potential which makes it the perfect medium to explore Mixed Feelings.
"Dance with flARmingos" exists in partnership with Tour du Valat, a research institute for the conservation of Mediterranean wetlands in Arles, France, through which Lucas has adopted wild flamingos. Each of these adopted wild flamingo is represented in the work by a holographic flamingo that can be interacted with to view its individualized biological and migration data.
Dancing flamingos, crudely modeled to resemble the Greater Flamingo species, are animated by motion capture data of Lucas performing like a flamingo. This is an interpretive dance, informed by flamingo behavior and movement observed both online and in the field, and through readings and conversations with flamingo experts. Researchers from Tour du Valat recently identified flamingo mating dance postures that will be central to a new flamingo dance choreography.
A variety of Augmented and Mixed Reality technologies are utilized to bring multiple participants at a time through the various stages of the experience, including a flamingo-diet inspired elixir designed by a mixologist to jolt the senses, a dance for multiple participants wearing Microsoft's HoloLens, and an Augmented Reality experience for tablets.
Production support is being provided in part through an Augmented/Virtual Reality Artist Residency at Oregon Story Board co-organized by Upfor and Eyebeam, a Digital Art Residency co-sponsored by Yafo Creative and Print Screen Festival, a New Works Residency at Harvestworks Digital Arts Center, a Pioneer Works Technology Residency, a BAU Institute Arts Residency at the Camargo Foundation, Cassis, and a research grant from the Department of Art and Art History and the College of Fine Arts (COFA) at the University of Texas at Austin.
Hololens with co-presence detection. Oregon Story Board. Recorded on Hololens 12/15/2016. View on YouTube.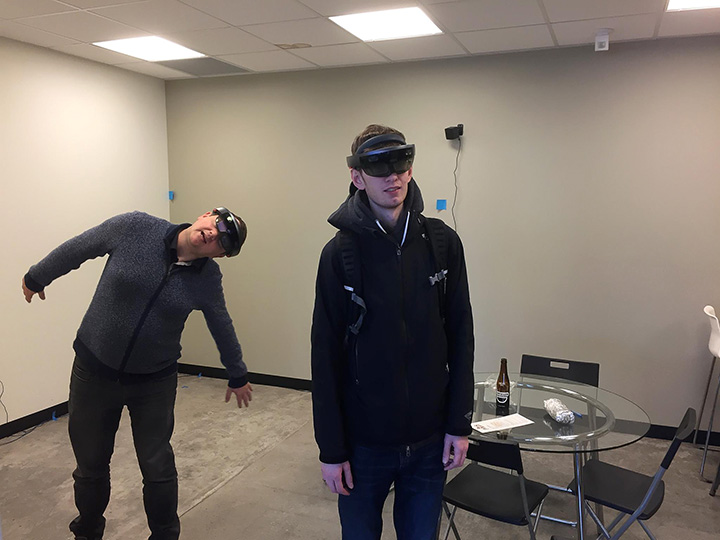 Motion Capture recording of flamingo behaviour. Oregon Story Board. 12-13-2016. View on YouTube.
FlARmingos flock animated with human motion capture. Screen recording in Unity. View on YouTube.
Kinect iteration at 2017 Print Screen Festival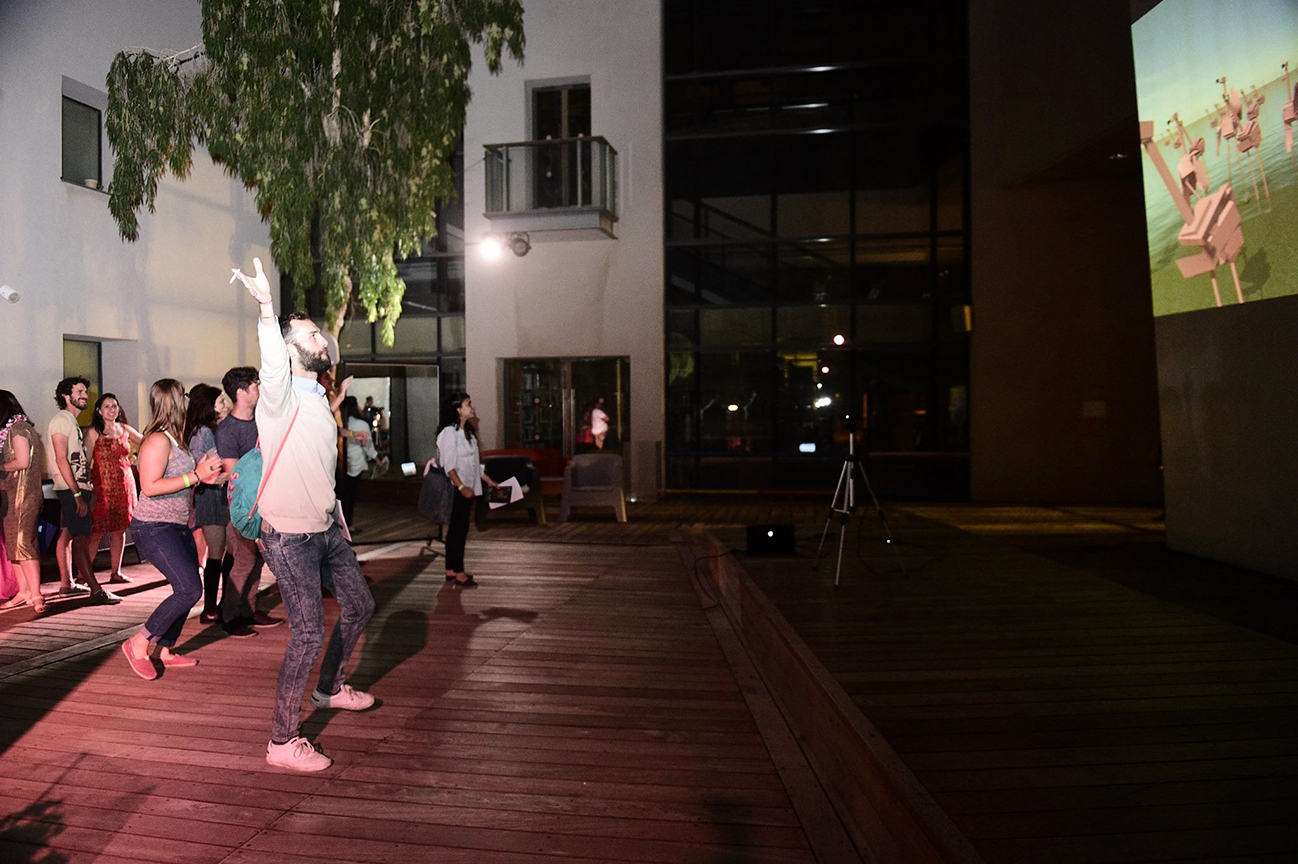 Dance with flARmingos: Multispecies Dance, Print Screen Festival, Holon Cinematheque, Israel. Photo credit: Print Screen Festival.
Dance with flARmingos: Multispecies Dance, Roaming Night: Alien Minds Program, Print Screen Festival, June 22, 2017.
Dance with flARmingos: Multispecies Dance, Screen recording of flamingos animated by humans via motion capture data and Kinect sensor.